Check Out This Hawaii Five-0 First Look (Football) Photo, and Submit Your Castmember Q's!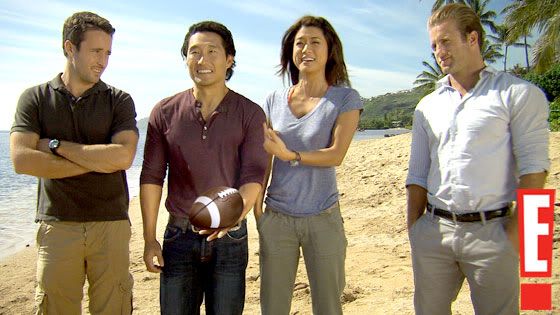 Today 9:35 AM PST
by Kristin Dos Santos
Hawaii Five 0, Cast CBS
Aren't they pretty? You could do worse that to start your Friday morning off with a look at Alex O'Loughlin, Daniel Dae Kim, Grace Park and Scott Caan filming a promo for the special episode of Hawaii Five-0 airing after the AFC Championship on CBS this Sunday night, right? (FYI, Daniel Dae Kim totally played football back in school, as did his TV character Chin Ho Kelly!)
Now, we're hitting the set with these guys next week, so post your questions for Steve, Danny, Chin Ho and Kono, and we promise to come back with sexy tropical footage—and answers!
TWITTER: Follow @KristinDSantos for more TV scoop all season long!
Read more: http://www.eonline.com/uberblog/watch_with_kristin/b221767_check_out_this_hawaii_five-0_first_look.html#ixzz1Bh77bgaW